The RMTC Laboratory Accreditation Program for U.S. horse racing testing facilities is vital to the integrity of the sport. It provides the only horse racing-focused laboratory accreditation and quality assurance program in the industry. As part of the accreditation requirements, laboratories participate in an external quality assurance program (EQAP) that determines if laboratories have the capabilities required to detect substances of concern at the concentrations that are mandated by the RMTC model rule recommendations. It is the goal of the RMTC accreditation EQAP process to ensure that all laboratories are operating at the same high level of proficiency. This consistency will foster uniformity and strengthen the integrity of racing and the safety of its human and equine athletes.
All participating laboratories must be ISO 17025-accredited to apply – in addition to meeting further requirements unique to horseracing – which will be validated by laboratory proficiency testing.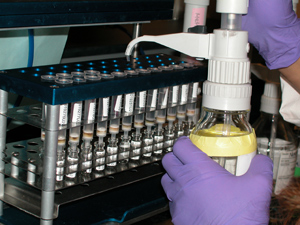 Accreditation Documents
Please mail all accreditation application materials to:
RMTC

401 W. Main Street

Lexington, KY 40507
For more information, contact RMTC Administrative Manager Julia Sisoumankhara at (859) 759-4081 or contactus@rmtcnet.com
Lab Director Access
This page is only for RMTC-Accredited Laboratory directors. All access requests will be approved or denied by the RMTC staff.